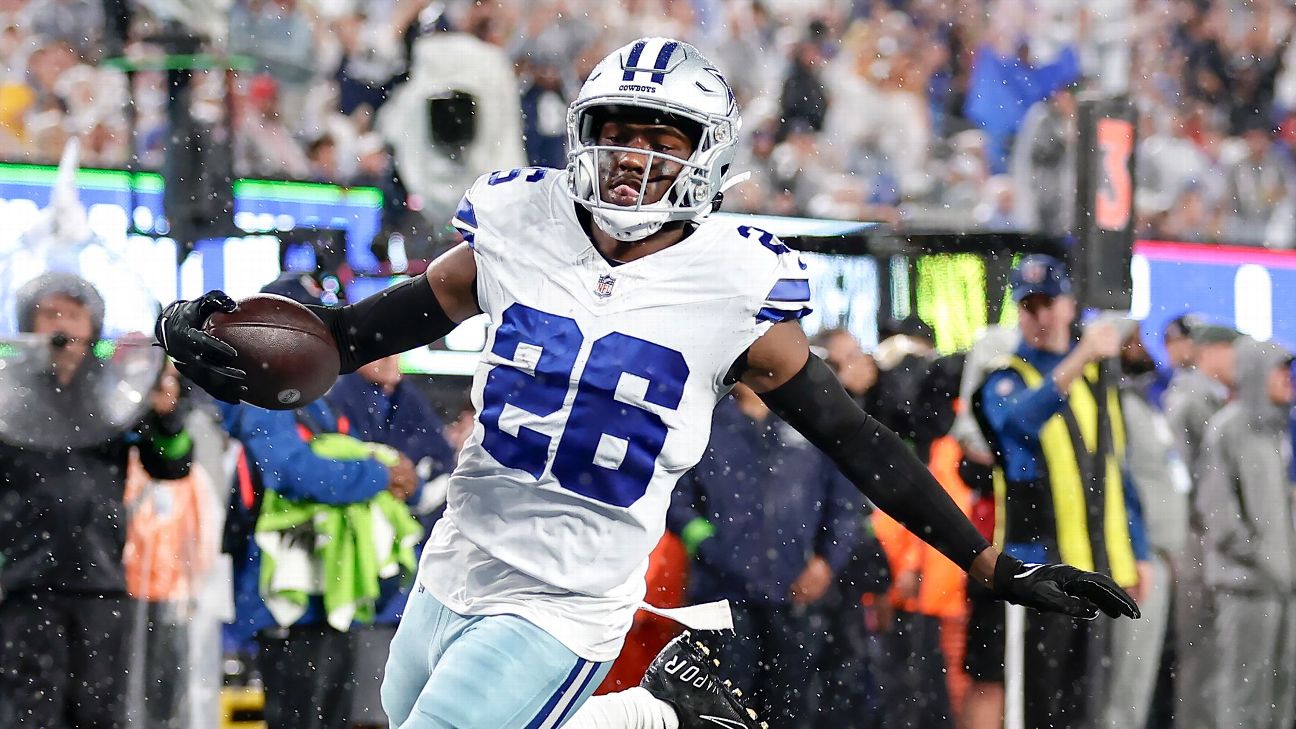 EAST RUTHERFORD, N.J. – Raise your hand if you had cornerbacks Noah Igbinoghene and DaRon Bland scoring the Dallas Cowboys' first two touchdowns of the season.
Ighbinoghene, acquired in a trade before the final cuts from the Miami Dolphins raced 58 yards for the score after Juanyeh Thomas blocked a 45-yard field goal attempt by Graham Gano on the Giants' first drive of the game.
Our special teams >>>>

📺: NBC & NFL + ➡️https://t.co/yLMhJNTZjs pic.twitter.com/8iZluBUL20

— Dallas Cowboys (@dallascowboys) September 11, 2023
On the Giants' third possession, Bland intercepted a Daniel Jones' pass 22 yards for the score after Trevon Diggs blindsided Saquon Barkley on a third-and-19 dump off to give the Cowboys a 16-0 lead after Brandon Aubrey made his second extra-point attempt following a hooked miss after Igbinoghene's touchdown.
For the first score, Thomas, who started at safety in place of an injured Donovan Wilson (calf), jumped between two New York blockers to smother Gano's field goal. After scooping up the ball, Igbinoghene went unscathed for the score after the Giants got down inside the Cowboys' 20 on the first possession.
Unfortunately for the Giants they had a false start penalty on third-and-2 and a muffed snap that lost 13 yards to set up the kick.
Igbinoghene's touchdown was the Cowboys' first blocked field goal for a score since 2007 when Pat Watkins ran 68 yards for a touchdown after Chris Canty blocked a field goal try in a 24-14 win against the Minnesota Vikings.
Bland's touchdown continues a defensive trend for a Cowboys' defense that is the first to lead the league in takeaways in consecutive seasons since the 1972-74 Pittsburgh Steelers.
🗣️Bland with a PICK-6!

📺: NBC & NFL + ➡️https://t.co/yLMhJNUx90 pic.twitter.com/yj5PCe4x8G

— Dallas Cowboys (@dallascowboys) September 11, 2023
This is the first time the Cowboys have scored two non-offensive touchdowns in a quarter since Week 10 of the 2012 season against the Philadelphia Eagles, according to ESPN Stats & Information. The Cowboys are the first team with a special teams' touchdown and defensive touchdown in a season opener since the 2018 New York Jets against the Detroit Lions.