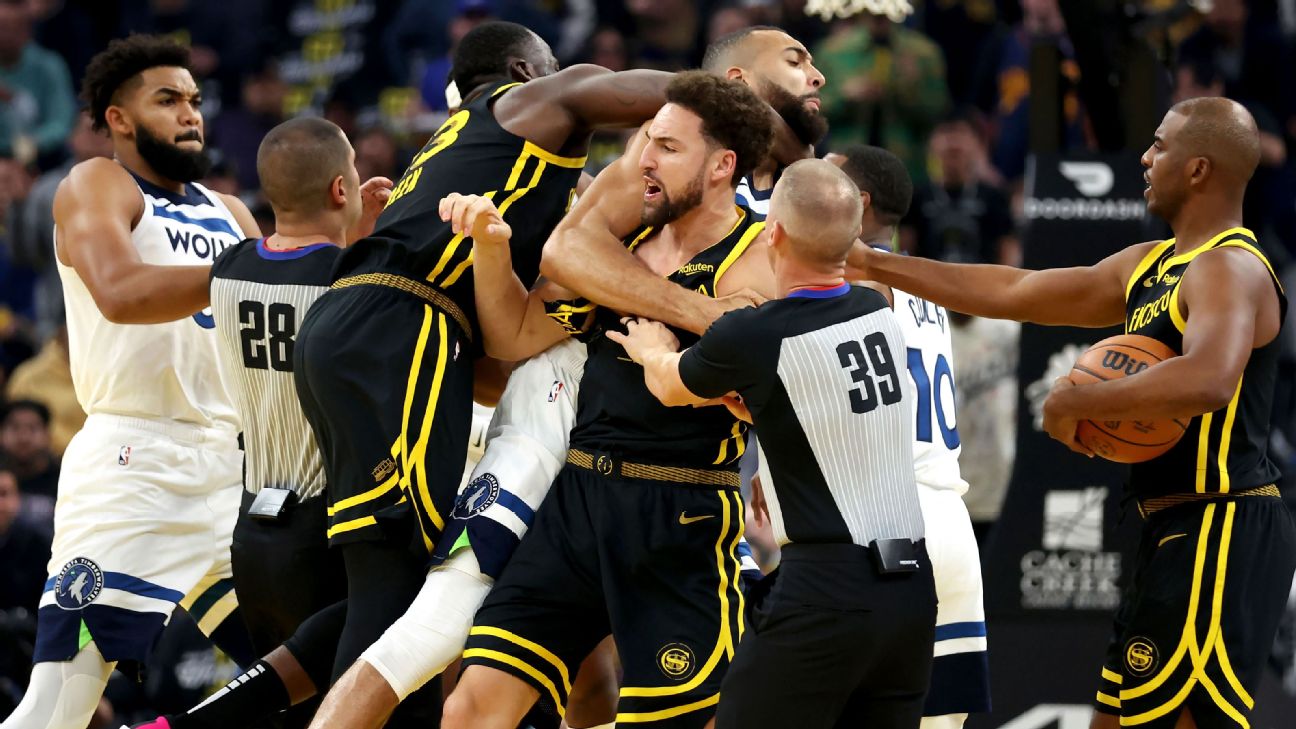 SAN FRANCISCO — The in-season tournament game between the Warriors and Timberwolves got off to a fiery start Tuesday night as Klay Thompson, Draymond Green and Jaden McDaniels were ejected for their roles in a fight less than two minutes in — Green after putting Minnesota center Rudy Gobert in a headlock.
The Warriors, already missing an injured Stephen Curry, were thus left without their three core players in an eventual 104-101 loss.
It was because of Curry's absence that Gobert almost expected that kind of ferocious behavior — at least from one player involved in the scuffle.
"Every time Steph doesn't play, (Green) doesn't want to play without his guy Steph, so he does anything he can to get ejected," Gobert said after the game, referring to Green's actions as "clown behavior" multiple times.
Just 100 seconds into the contest, McDaniels and Thompson got tied up with one another in transition, as Thompson held McDaniels' jersey while he waited for a long rebound. McDaniels grabbed Thompson and both refused to let go as they moved down the court.
They began to swing each other around and push, resulting in McDaniels ripping Thompson's jersey and Thompson swinging his arm at McDaniels.
"I was just trying to crash for a rebound and (Thompson) kind of grabbed my collar. I was just trying to defend myself and get him off me," McDaniels said. "The rest is what it is. I knew before that there was some chitter-chatter going back and forth. I didn't take it seriously. I was just laughing. I guess it was a bigger deal to him."
As other players rushed toward the two, Green put Gobert in a headlock. Coaches and players forced Green off Gobert as others separated McDaniels and Thompson. After a review, McDaniels and Thompson were assessed two technical fouls each and Green was given a flagrant foul 2.
It was the first game in the past 25 seasons in which multiple players were ejected before either team scored, according to ESPN Stats & Information research.
Gobert said he got involved to "de-escalate the situation." When Green grabbed him, Gobert threw up his hands to avoid making matters worse.
"My first thought was just, 'I'm not going to fight. I need to be in this game to help my team,'" Gobert said. "I just showed the ref that I had my hands up, and I just waited until the situation was over. Nothing more than that. It wasn't a good enough choke to put me to sleep."
As reporters entered the Minnesota locker room after the game, guard Anthony Edwards called out, "Slim is not guilty on all counts," referring to McDaniels.
Warriors coach Steve Kerr said Thompson should not have been ejected and offered an explanation for Green's behavior.
"There is no way Klay should have been ejected. That was ridiculous," he said. "I was upset about that. As far as the Draymond piece of it, Rudy had his hands on Klay's neck. That's why Draymond went after Rudy."
Thompson and Green were not available for comment after the game.
Crew chief Tyler Ford told a pool reporter that Green's actions toward Gobert were "unnecessary and excessive," meeting the threshold for a flagrant foul penalty 2.
As for Gobert's involvement and contact with Thompson, Ford said Gobert "was attempting to separate Thompson and McDaniels and was ruled to be a peacemaker."
Ford and the other officials reviewed all other players involved, but didn't deem any other actions to be "unsportsmanlike."
I thought the ejections were the right ones," Minnesota coach Chris Finch said. "I thought they were warranted. I thought (the refs) did a good job of getting control of the game from that point of view. The game was very physical, but it wasn't a very dangerous and out-of-control game."
While Gobert said he did not feel unsafe during the scuffle, he expects the NBA to punish Green for his actions.
"I do hope that the league is going to do what needs to be done," he said.
This was Green's second ejection of the season after he was tossed against the Cleveland Cavaliers on Saturday.
Information from The Associated Press was included in this report.