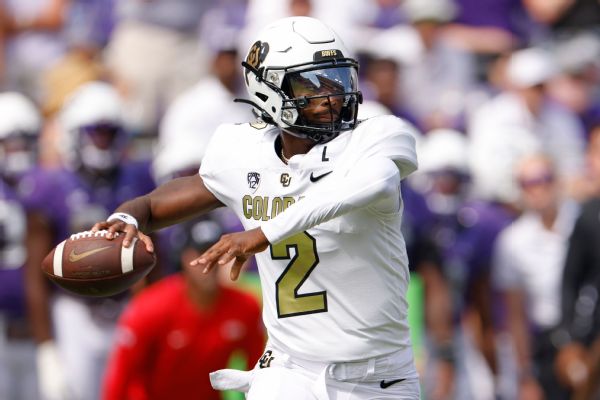 FORT WORTH, Texas — Shedeur Sanders stood up after his news conference, pulled out his phone and snapped a picture of the stat sheet, the one that showed 510 passing yards — the most ever by a Colorado quarterback.
The picture wouldn't serve as a memento, but a receipt, the one Sanders, his Hall of Fame father and coach and the rest of the Colorado Buffaloes were collecting after Saturday's 45-42 season-opening win over No. 17 TCU. They had heard how they wouldn't win many games, how their revamped roster had too many holes and how Sanders, Travis Hunter and others would struggle transitioning from Jackson State, an FCS team in the SWAC, to college football's top level.
"For real? Shedeur Sanders? From an HBCU? The one that played at Jackson last year? The one that you asked me, 'Why would I give him the starting job?'" Colorado coach Deion Sanders asked mockingly about his son, whom he had coached at Jackson State before Colorado. "I've got receipts. I know who they are."
Shedeur Sanders became the first Buffaloes quarterback ever to eclipse 500 passing yards in a game. He completed 38 of 47 passes with four touchdowns and no interceptions, and he had four different teammates eclipse 100 receiving yards — another Colorado first.
His dominant debut surprised everyone but the man delivering the goods. Shedeur Sanders saw little to no difference playing in the FBS and against a TCU team that reached the national championship game last season. He said he respects TCU but doesn't "fear names."
"It's the same recipe, the same preparation, same things we're doing over and over," Sanders said. "It's just magnified and y'all are able to see us, more cameras and stuff. The only difference is the media and everybody is driving the headlines."
Colorado, which went 1-11 last season and hired Deion Sanders in December, won its first road game since 2021 and snapped a streak of 24 consecutive losses as an underdog of 21 points or more. The team recorded its best road win against a ranked opponent since 2002 and its first of any kind since 2019.
Deion Sanders, a Pro Football Hall of Fame cornerback hired after three strong seasons at Jackson State, made his Colorado debut with a team that featured 86 new players, including sons Shedeur and Shilo as well as Hunter. Although Sanders outlined his intent to flip the roster at his first team meeting in December, the overhaul drew criticism from coaches and others — and some bleak forecasts for the season. But Colorado aced its first test, controlling play for the first 2½ quarters before erasing three deficits down the stretch.
"Turn on the film," Deion Sanders said. "We're going to continuously be questioned because we do things that have never been done. … We going to consistently do what we do, because I'm here and ain't going nowhere. These young men in there right now, they believe. Not all of them believed before. But right now, they came up, one by one, two by two, 'Coach, we believe.'"
"Now Boulder believes."
Shedeur Sanders and Hunter were the headliners of Colorado's roster overhaul, and both shined against TCU. Hunter, ESPN's No. 2 recruit in the 2022 class, who spurned Florida State to play for Deion Sanders at Jackson State, became the first FBS player to record more than 100 receiving yards and an interception in the same game since Miami's Quadtrine Hill in 2002, according to ESPN Stats & Information research.
He had 11 receptions for 119 yards and nearly had more on two acrobatic dives but couldn't hold on to the ball. With Colorado up 24-21 midway through the third quarter and TCU at the Buffaloes' 4-yard line, he stepped in front of a Chandler Morris pass and made an interception.
"Travis is him, like the young folks say, Travis is it," Sanders said. "I always promote all my kids, and I really think we've got a couple guys who should be front-runners for the Heisman right now.
"Who did what they did today?"
Hunter, who said he maxed out at 120 snaps in high school, logged 129 snaps against TCU. He was targeted 16 times as a receiver and finished with three tackles, a pass breakup and the interception on defense.
"It ain't no different, football is football no matter who is playing," Hunter said. "You've got to go out and dominate and that's my biggest thing. I went out there and dominated. A lot of people doubted me because I rated myself as No. 1 [on the] Heisman watch, but now they're praising me now, because they've finally seen what I've seen, my vision and what the coaches' vision is for me."
Before Saturday, Colorado had been held to fewer than 400 yards in 26 straight games, the longest active streak in the FBS, according to ESPN Stats & Information research. The team had been one of three FBS teams without a 300-yard passer in the past two seasons. Colorado didn't have a player record multiple touchdowns from scrimmage in any game last season.
But the Buffaloes surged for 565 yards on 81 plays and held the ball for 34 minutes, 33 seconds. Offensive standouts included freshman running back Dylan Edwards, who had a team-high 135 receiving yards and three touchdowns to go along with a rushing touchdown; and wide receivers Jimmy Horn Jr. and Xavier Weaver, who combined for 235 receiving yards on 17 catches.
"It feels great knowing that everybody can do their job and make plays," said Edwards, an ESPN top-150 recruit who flipped his commitment from Notre Dame to sign with Colorado. "In high school, sometimes you're that guy and you've got to make the plays. Now you go on the field, you've got [Hunter], you've got Jimmy, you've got me, you've got everybody else making plays."
TCU coach Sonny Dykes said Colorado was more ready to play than his team.
"It was terrible," Dykes said. "I thought it was a really bad defensive performance."
Deion Sanders, who underwent multiple surgeries for circulatory issues in a foot during the offseason, ran onto the field with his players and stood the entire game, saying afterward that the foot was "not good" but "thankful that God gave me what I needed to finish." While getting treatment on the foot in the locker room, he had "a dad moment" with Shedeur and Shilo, a safety who led Colorado in solo tackles with nine.
Sanders thanked his assistant coaches and athletic director Rick George for hiring him.
"They know I'm a winner, and we're going to end up winning," Sanders said. "Ain't none of [the media] thought we were going to end up sitting here. You were supposed to be on the other side, interviewing [TCU] or asking me, 'What happened? You said this and you said that.'
"Now what? Everybody's quiet now."