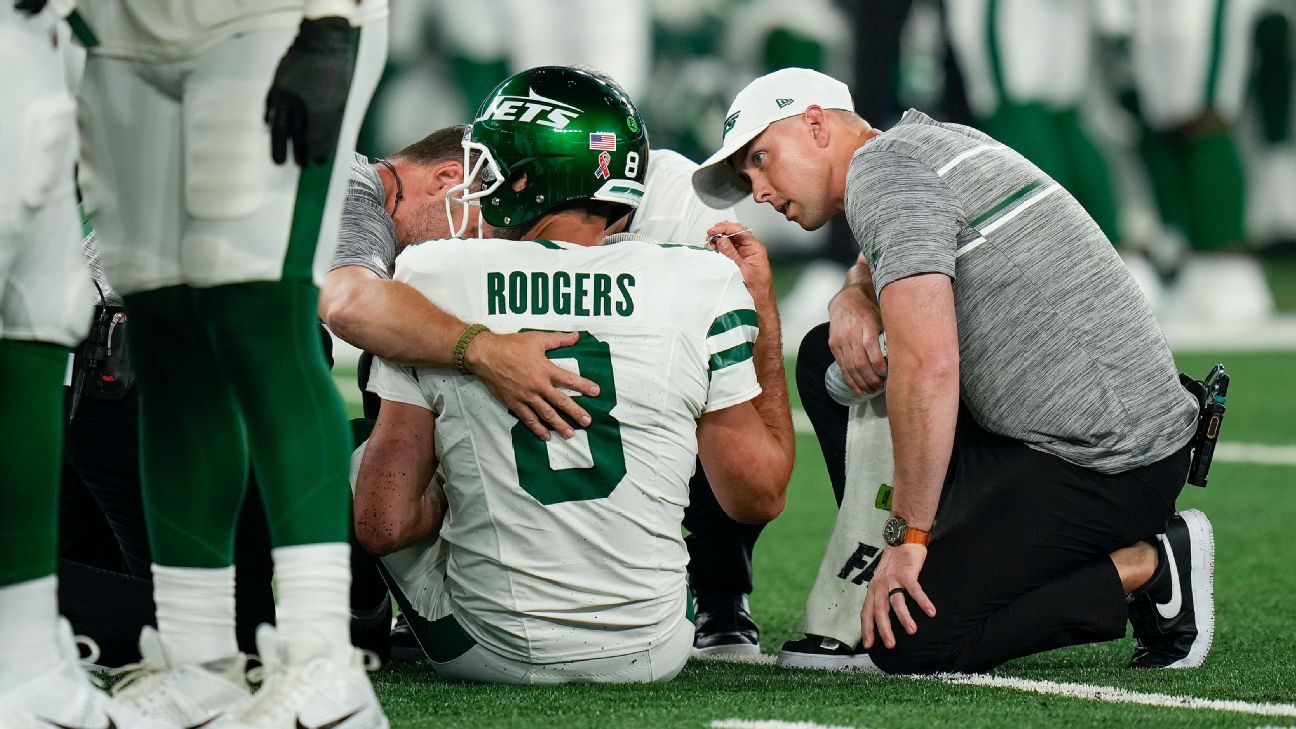 FLORHAM PARK, N.J. — After losing quarterback Aaron Rodgers to a season-ending Achilles tear, confirmed Tuesday by an MRI, New York Jets coach Robert Saleh gave Zach Wilson a strong endorsement as the new starter and scoffed at those who believe their playoff hopes are ruined.
"I don't know why people are trying to put an obituary under our team name," Saleh told reporters on a Zoom call.
Rodgers, injured on the Jets' fourth snap of the new season, was placed on injured reserve and will have surgery to repair his Achilles. Saleh declined to reveal a timetable, but indicated their hope is that the four-time MVP — the centerpiece to their blockbuster offseason — will stay with the team during his rehab.
The devastating injury sparked intense speculation about possible replacements. The Jets are expected to add a veteran, but Saleh emphasized that Wilson is the new QB1 and that no acquisition would be brought in to compete with the former first-round pick.
"I do want to make it very clear: Zach's our quarterback," Saleh said. "We've got a lot of faith in Zach.
"This is Zach's team and we're rolling with Zach," he added.
Wilson, who struggled last season and was demoted twice, will make his 23rd career start Sunday at the Dallas Cowboys (1-0). Journeyman Tim Boyle will be brought up from the practice squad to be the primary backup for the game.
The Jets' grand plan was to have Wilson, 24, learn under Rodgers for a couple of years before returning him to the starting job, but everything changed only 4:04 into Monday night's 22-16 overtime victory over the Buffalo Bills.
Trying to spin away from defensive end Leonard Floyd, Rodgers' left leg was planted in the turf and his Achilles ruptured. A slow-motion replay showed his left calf — the same calf he strained in OTAs — reverberating as he went down for the sack.
The offensive linemen tried to help him up, but Rodgers told them, "I'm not getting up," according to guard Alijah Vera-Tucker.
It was a crushing blow to the Jets, who traded for Rodgers and built their season around him. Because of his age (39) and the severity of the injury, his future is now a major question.
Before Monday night, the former Green Bay Packers star said on numerous occasions that he wanted to play a few more years. He's under contract through 2025, due a total of $75 million in guarantees after taking a voluntary $35 million pay cut in August. He's making $37 million this season, all of it guaranteed.
Saleh declined to speculate on Rodgers' future.
"As you guys can imagine, he's down," Saleh said. "I'll let him answer those questions. I didn't get into the future of what he's expecting or what he's thinking. I think that's a conversation, tactfully, left for another day. But he's, as you can imagine, with everything that he's invested in this, he's obviously a little disappointed."
Rodgers faces several months of intensive rehab, but the Jets want him around.
"We all want him to be connected and I think he wants to be here," Saleh said.
The Jets, who began the season with Super Bowl aspirations, will turn to the quarterback they sent to the bench in the offseason. They billed this as a "reset" season for Wilson, who spent the past few months learning at Rodgers' side. The hope was that he'd be able to improve his fundamentals while not having the pressure of being the starter. He sparked a firestorm last season when, after a poor performance against the New England Patriots, he declined to accept any blame for the loss in his postgame news conference. Two days later, he was benched.
Wilson said he's "a lot more prepared" after having worked with Rodgers.
"The hardest part is now putting it into a game, and I've got to be able to do that," he said Monday night.
After replacing Rodgers during the first possession, Wilson (14-for-21, 140 yards) was uneven. He threw into coverage for a costly interception, but he also helped rally the team from a 10-point deficit in the fourth quarter with a 3-yard touchdown pass to Garrett Wilson.
Wilson won five of his first six starts last season, although he passed for under 155 yards in three of those victories.
Saleh said "everything about him is just so much different than a year ago. It's happening faster than I think anyone expected, obviously, under the circumstances, but he's somebody that's made a drastic improvement from a year ago."
Rodgers' injury sparked conversation around the league on the new turf field at MetLife Stadium and the overall safety of turf surfaces. Philadelphia Eagles cornerback Darius Slay, speaking to reporters in Philadelphia, ripped the quality of the field.
"… MetLife, everybody knows about that god damn stadium," Slay said. "They need to get real grass. That's trash. That's sad for anybody to go down because we play this dangerous game, man. Everybody thinks we're superheroes but we're really not."
Saleh doesn't think the field caused the injury, saying, "No. If it was a noncontact injury, I think that'd be something to discuss, obviously. But that was kind of a forcible [injury]. I think that was trauma induced. I do know the players prefer grass and there's a lot invested in those young men."
In the preseason, Rodgers said he prefers to play on grass, but said MetLife Stadium is "one of the best surfaces I've seen that's artificial."
ESPN's Tim McManus contributed to this report.