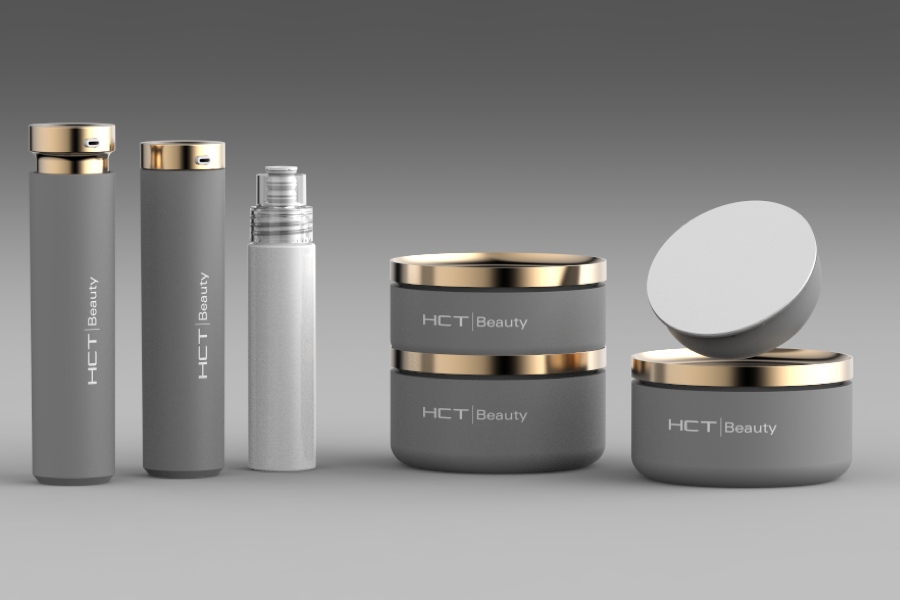 We have noticed a shift in demand for stock tools over custom tools, and with this trend, HCT is primed to help customers by offering a diverse stock tool library. There is a lot of brand competition right now, and for smaller brands that have disruptive ideas, we can help them launch right out of the gate with strong sustainability claims and uniqueness, versus established brands that are having a more challenging time shifting their current offering to becoming more sustainable. We think it is an exciting time for new products, and we want to help those brands launch with strong sustainability claims effectively and efficiently.
HCT has a new collection of tools that they are very excited about, including a new refillable palette, a refillable monomaterial pump, and refillable jars.
The Refillable PET Palette is a monomaterial PET design created to be a bit different from what is currently available on the market, featuring a new refillable pan system that is compatible with multiple palette designs. The pan holder will be available in multiple materials, starting with PET, which is recyclable, as well as in different sizes that will work for face powders (bronzer, highlighter, blush, foundation), and eye shadow. The idea is to reuse the same pan system with different palettes—larger or smaller sizes, mix-and-match product categories—offering consumers a custom-curated palette experience from a brand they love. The PET version is the first design to launch, with more designs planned in the pipeline.
The Monument Pump was created as a more unique design solution to your typical refillable pump by allowing the consumer to reuse the actuator and base. The refill PP bottle comes with the monomaterial PP pump already assembled and can be recycled as one piece. The user only needs to drop the recyclable bottle (and pump) into the outer bottle and snap the actuator on. At the end of use, you separate the actuator from the bottle and pull out the inner pump for recycling. We are producing additional versions with glass, aluminum, and silicone outer bottles in order to offer more options for brands to play with different materials and aesthetics. The PP pump version will be available in 30 mL, with more sizes in the works.
The Hush jars are monomaterial PP featuring a unique recessed design on the lid, allowing the jars to easily stack on top of each other. A typical refillable jar has a narrower neck, making it difficult to access all the product. The Hush Jars feature a wider opening with a hidden thread inside, allowing for easier access to the product until the last drop. The PP version is currently available in 30 mL and 50 mL. Larger volumes will be available soon for haircare and bodycare products. The larger opening also creates an easier experience for popping out the inner pod. Like the Refillable PET Palette and the Monument Pump, the Hush Jar will also be available in different materials for the cap and base, including aluminum, silicone, cement, glass, and various bio-based materials.
HCT is pushing the limits of sustainable design by offering different materials and design options to meet customer needs and deliver a more playful experience to both brands and their consumers.
HCT is encouraging brands to reach out to set up a meeting to explore new stock tools and find ways to help them make the shift to a more sustainable future. Sustainability isn't easy, but it can be beautiful and fun. Send HCT an email at info@hctgroup.com.